Printable Travel Planner
$5.99
Description
Printable Travel Planner Kit | Travel Planner | Road Trip Planner | Vacation Planner | Travel Journal | Vacation Journal | Packing List
This is a DIGITAL ITEM. After checkout, you will be directed to your download page, where you can instantly download the PDF Travel Planner file, or you can return at any other time to download. Please note that you will not receive a physical item.
This Printable Travel Planning Guide includes all the vacation planning pages you need to plan your family vacation, family camping trip or family road trip including:
➡ FAMILY VACATION BUNDLE AND TRAVEL PLANNER – 24 PAGES
• 3,4, 7 day intineraries
• Packing checklists for hotel, camping, tent camping and resorts
• Vacation budget planning sheet
• Travel journal
• Pet sitting instructions
• House sitting instructions
…and more
➡ WHAT YOU WILL RECEIVE
– 1 high resolution PDF file for printing on 8.5 x 11 paper
I don't accept returns, exchanges, or cancellations
But please contact me if you have any problems with your order.
Size Chart
Printable Travel Planner Kit | Travel Planner | Road Trip Planner | Vacation Planner | Travel Journal | Vacation Journal | Packing List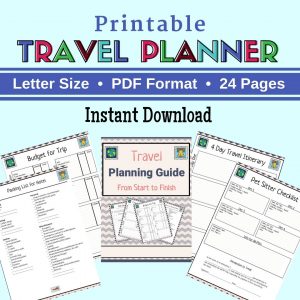 This is a DIGITAL ITEM. After checkout, you will be directed to your download page, where you can instantly download the PDF Travel Planner file, or you can return at any other time to download. Please note that you will not receive a physical item. This Printable Travel Planning Guide includes all the vacation planning pages you need to plan your family vacation, family camping trip or family road trip including: ➡ FAMILY VACATION BUNDLE AND TRAVEL PLANNER - 24 PAGES